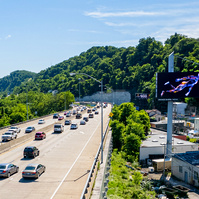 On June 4, 2021, Mikael Owunna led a youth community STEAM (science, technology, engineering, art, and math) workshop for 12 middle school students from Homewood at Maker's Clubhouse in which he taught African cosmologies, shared inspirations for his Infinite Essence series, and guided the students through an exercise in which they produced their own Infinite Essence inspired artworks.
"Art as Liberation: Celebrating Black Art in Pittsburgh"
Infinite Essence: Celestial Liberation
Client: Orange Barrel Media, Curated by Larry Ossei-Mensah
Format: Digital Billboards, Digital Kiosks
Dimensions: 60' x 20', 20' x 30', 65"
Opening Reception: Friday, June 18, 2021 (4-8pm)
Exhibition: June 18, 2021 - June 30, 2021
In collaboration with Orange Barrel Media and curator Larry Ossei-Mensah, artist Mikael Owunna crafted Infinite Essence: Celestial Liberation, a public art project presenting African cosmologies to an estimated 668,924 viewers across the Pittsburgh region on 60 ft x 20 ft digital billboards and 65" kiosks in 11 locations in the city from June 18 - 30, 2021. The exhibition was timed to occur in tandem with the first officially recognized celebrations of Juneteenth in Pittsburgh, an annual holiday celebrating the emancipation of African Americans from slavery, and the work was activated through town hall conversations, and community workshops. On June 18, 2021, Owunna collaborated with 1Hood Media and City of Asylum to host "Art as Liberation: Celebrating Black Art in Pittsburgh," a community art event that included 14 Black artists, 4 Black performers, free food, music, conversation about police violence and African American history, and a fundraiser for the Antwon Rose II Foundation. Over 400 community members attended the event, and it was extensively featured in local television and print news. On June 19, 2021, Everyday Café hosted a Juneteenth brunch and town hall conversation featuring Owunna and curator Larry Ossei-Mensah in which they discussed public art activations of Infinite Essence in Homewood and around the city, artistic responses to police violence, and encouraged people to engage with the arts and local businesses in Homewood.
Visual Art Locations:
Digital Billboards:
Route 28 at Clark St
Route 28 at Route 8
Spin Bike Stations:
Penn Ave/Stanwix St - Location #1 - 603 Stanwix Street
N Highland Ave & Penn Ave - Location #2 - 106 N Highland Ave
First Ave/B Street - Location #3 - 698 First Avenue
Forbes Ave/Market Square - Location #4 - 138 Forbes Avenue
E Carson St/S. 18th St - Location #5 - 1801 E. Carson St
Schenley Dr & Forbes Ave - Location #6 - 221 Schenley Dr
Forbes Ave & S. Bouquet St - Location #7 - 210 S Bouquet St
Federal St & Isabella St - Location #8 - 12 Federal St
10th St. & Liberty - Location #9
Allegheny Station & Heinz Field - Location #10
Schedule of Events:
Monday, May 24
Instagram Live Conversation with Larry Ossei-Mensah and Mikael Owunna / 7-8pm (Virtual)
https://www.instagram.com/tv/CPRmkR4FNCM/
Thursday, June 3
Infinite Essence Student Workshop / 2-3pm
Bible Center Church, Maker's Clubhouse
7214 Tioga St
Pittsburgh, PA 15208
Friday, June 18
Juneteenth Art Fair, "Art as Liberation: Celebrating Black Art in Pittsburgh", Curated by Mikael Owunna / 4-8pm
1Hood Media
320 Sampsonia Way
Pittsburgh, PA 15212
Saturday,June 19
Juneteenth Brunch and Conversation with Larry Ossei-Mensah and Mikael Owunna / 11am-1pm
Everyday Cafe
532 N Homewood Ave
Pittsburgh, PA 15208
Tuesday, June 22
Clubhouse Conversation with Larry Ossei-Mensah and Mikael Owunna / 7-8pm (Virtual)

https://www.clubhouse.com/event/Mz5RgbwV